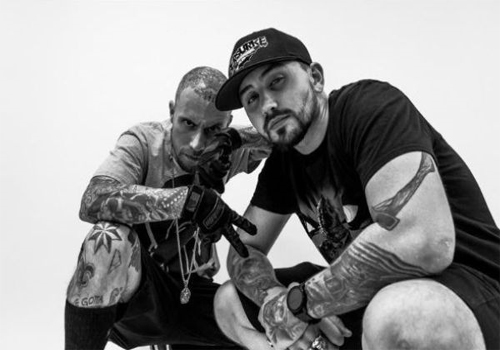 Wes Nihil and Bersurke release the new "Peep The Theory" video.
Wes Nihil, best known as the captivating frontman of Newark, New Jersey's popular hardcore band Razorblade Handgrenade (also one half of hip hop duo Crimson Twins), has teamed up with Boston, Massachusetts' MC & producer, Bersurke of ILL Supreme, to deliver "Peep The Theory", a playfully aggressive song/video created and filmed during a family barbeque. The video, shot and edited by John L. (founder of All I Know Is Goon clothing), masterfully provides a window into a day of family, food, drinking, and good music. Wes Nihil immortalizes the day even further by getting the "Peep The Theory" song title tattooed on the palm of his hand, which is all caught on video while both spitters simultaneously trade bars over an electrifying Bursurke produced soundscape.
Furthermore, growing N.J. brewery, Kardinal Brewing, has released a limited-edition 5.5% ABV pale ale named "Peeper Of The Theory" to celebrate this Wes Nihil/ Bersurke collaboration and claims to have captured the spirit of this unforgettable experience in a 22-ounce bottle.
Wes Nihil spoke about "Peep The Theory", stating, "This was a spontaneous joint that embodies the soul of freestyling.  We didn't sit on the beat for weeks before recording, we made everything that day on the spot and had a blast doing it.  Sometimes you just have to put good energy in motion." Bersurke added, "It's magical when you can trap lightning in a bottle. I feel that is the best way to describe this adventure, and its even cooler that Kardinal Brewing commemorated this song by bottling it in beer form."   "Peep The Theory" is featured on BPLA's (Below Poverty Level) Hobin & DJ Grusm (Canada) presented mixtape titled "Murder Machine 2" which will be available everywhere October 16th.