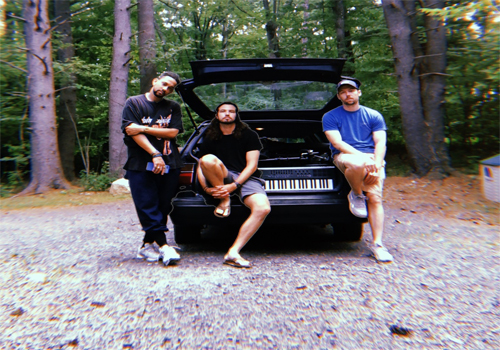 Graffiti Royale releases their new "Sunrays" video featuring Oswin Benjamin.
New York-based band Graffiti Royale present the Jordan Collins-directed music video for "Sunrays," their new single featuring rapper Oswin Benjamin. The "Sunrays" clip follows on the heels of visuals for singles "Feel The Fire" and "Sweet Like Wine." Oswin Benjamin released his album Godfrey in 2019 and has collaborated with Styles P and Chris Rivers.
The band was born when singer Bronx-bred vocalist Daniel Vasquez a.k.a. QuezDreamer began looking for a backup band to perform with during his sets, a search which led him to connect with Northern California native Tyler Morrisette a.k.a. Creature in the Woods and Alec Green a.k.a. AG, who hails from Philadelphia. Graffiti Royale has performed its mix of electronica, 80s funk, indie rock and hip-hop at SOBs, Mercury Lounge, DROM,
The Shrine, Paper Box and SRBs, with recent small tours in California and Philadelphia. They have shared the stage with Oswin Benjamin, Chris Rivers, J Lately, Adrien Daniels, Jake and Poppa and Year of the OX. "We created this song to represent the feeling that the end of summer brings when you're chasing the fleeting moments you felt in the sun," the band says. "We collaborated with our good friend and NY rapper, Oswin Benjamin. Our original idea for the video was to bury ourselves in the sand at the beach all day, but our videographer talked us out of it." "Sunrays" is out now on Strangewave Music.
[jwplayer player="1″ mediaid="132309″]