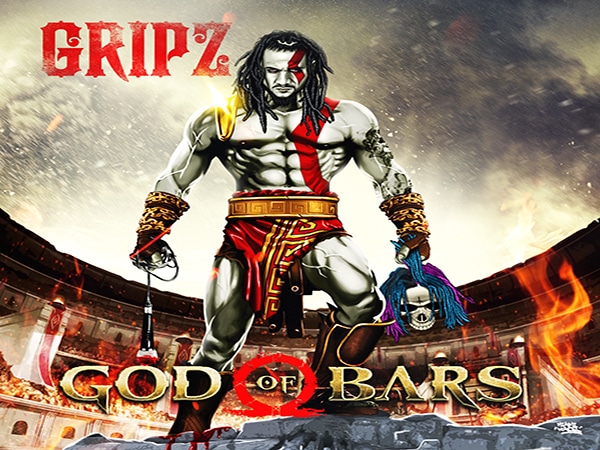 God Of Bars is an introduction to Gripz.
Many of you will recognize Gripz and his style if you frequent SpitFireHipHop.com. However, for some this may be the first time you have heard Gripz. He is not one that holds punches and shoots directly at his target. Some artists in this generation of Hip Hop are riding the wave of Trap music or "mumble rap," Gripz is not one of them. Gripz takes listeners on a journey with his new album.
God Of Bars host an impressive arrangement of dark tracks that lend to the sound that is Gripz. If I had to liken his sound to (which we like to do from time to time) any artist, it would be Tech N9ne.
[jwplayer player="1″ mediaid="117105″]
Gripz worked with a number beatmakers and can thank River Beats, Dreamlife Beats, Majestic Drama, Grilla Beats and more for providing a consistent sound. One of my favorite tracks, that is content and production would have to be "Momma Told" produced by Grilla Beats. The piano on this track is hypnotic.
The drum-anchored "Conversation With God" boasts one of the album's best hooks that touches on the beliefs of prayer and who to send them to. The sound on "Return Policy" is like something from the future as the newcomer talks about returning the shots that are coming at him. And "God Of Bars," the title track is a banger that showcases the lyrical abilities of Gripz.
The sounds provided by the production are truly a comfort zone for Gripz, that allows him to display his rhyming talents from the start of the album.
[jwplayer player="1″ mediaid="115605″]
Staying with his themes of spiritual warfare, political threats and not conforming to the current state of Hip Hop, Gripz gives those who are unfamiliar with him, an open portal.
Gripz and Breana collaborate on a two tracks and seem to make great music together. The first track is "Conversation With God" which is another of my favorites on the album. The two then find themselves laying low on "Radar" where Gripz explains that he will never change his style to make a hits list. The two finally connect over the Dreamlife Beats produced "Overtime."
There are not many misses for me from Gripz on 'God Of Bars'. Gripz's release of this new album results in one of the best albums I have listened to in 2018. This is a great introduction to the industry by Gripz.
Pre-order the album here.