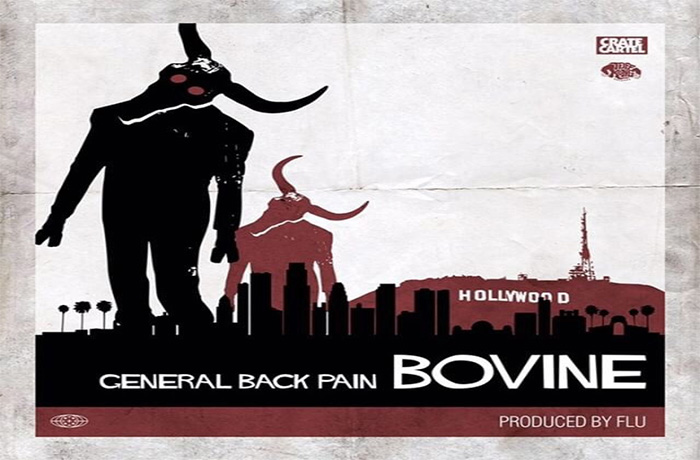 Inglewood, California's GeneralBackPain and Melbourne producer Flu will soon release their collaborative album titled 'Bovine'. Before the album is released check out the review below.
Inglewood, CA artist GeneralBackPain is one of our favorites in Hip Hop right now. He seems to have the formula with the right amount flow, cadence and breath control to very successful in this industry, The entire Hip Hop community will soon know his name and appreciate what he is doing. From start to finish, his new collaborative effort with producer Flu, 'Bovine' — this production does not sound like something you would expect an artist from the West Coast to utilize — however it is a perfect amalgamation.
In a sea of co-signs and gimmicks in Hip Hop, GeneralBackPain creates an album that sounds to be authentic to who he is. He delivers the life lessons across the 8-song adventure. Saturated in that dark, sinister boom bap tracks, the subject matter covers thug passion, love of team, and those West Coast drug tales.
The album starts with the heavy drum track "Charcuterie," an ode to the branch of cooking devoted to prepared meat products. Accentuated by the production from Flu, he displays the effortless flow — and even adds excerpt explaining why the animals that give us beef a castrated.
Main playlist with id GeneralBackPain & Flu - Offal does not exist!Main playlist with id GeneralBackPain & Flu - Offal does not exist!
Moving over to the sound we get on 'Fluid' which allows us to hear the slow flow from GeneralBackPain. You will not see any features on this album outside of his Home Team brothers. The features on this album are occupied by singers Charlie Chan, Killy Shoot, Deuce Hennessy, Lupus Dei and Chuck Chan.
'Python' is one of tracks that grabs your attention from the very beginning. He announces on this track that he represents the new West Coast.
"Peace to my little homie Pasqual, was searching for beef but ended with a cash cow/ purchased the ruegers from Peru but the hammers came from Glasgow/I'm drying your bae off with my last towel/used to push the hooptie, the hooptie all glass now/ I rep the whole hood but Inglewood got the savage sound." These are some of the bars on 'Python'.
GeneralBackPain and Flu collaborate very well — the production on this album is not the commercial sound that permeates Hip Hop today. Instead it is akin to the boom bap era of Hip Hop. As you negotiate this album, I am sure you will replay several of the tracks. Look for 'Bovine' dropping soon.