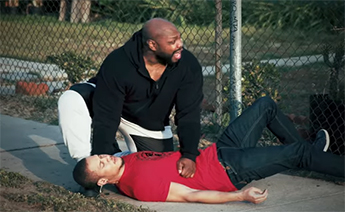 A native of the gritty streets of Detroit, Page Kennedy spent his early years going from the modest home of his neglectful drug-addicted mother, to a more comfortable yet equally difficult life alongside his doctor/drug-dealer strict and physically abusive father. In times of extreme struggle and trauma, creative people often find solace in the arts and Page found in rap the avenue of self-expression he had longed for. At a time where Detroit bred its best rappers in the playgrounds, Page perfected his lyrical skills by battling and conquering anyone and everyone that came in his path; and over the years earned a reputation as one of the best rappers at Detroit's renowned "Hip-Hop Shop."
Page has a very impressive resume in Hollywood, including appearances in the biggest shows in TV; including regular roles on Desperate Housewives, Blue Mountain State, S.W.A.T., Rush Hour and of course as the intelligent and ruthless drug dealer U-Turn in Weeds. Despite all of his success as an actor (with over 50 credited appearances in film and TV), Page has always been loyal to his first love: Hip-Hop. In 2017, Page released his lyrically charged debut project, Torn Pages, which featured an eclectic assortment of songs with guest appearances from Royce da 5'9", KXNG Crooked, King Los, Mr. Porter, Elzhi, Trick Trick and Marsha Ambrosius.
[jwplayer player="1″ mediaid="117557″]
On August 10, Page Kennedy returns with his sophomore album,
Same Page Different Story
, which will be released in conjunction with one of the most anticipated movies of the summer, the surefire blockbuster, The Meg (Page plays a central character in the movie) which also stars Jason Statham, Ruby Rose and Rainn Wilson (The Office). Today, he releases a visual for his nostalgic ode to hip-hop and for XXXtentacion's recent passing "
Miss You
."
"I wrote this song because of the increasing influence of hip-hop by those who I feel only get into music for clout" Page states. "I grew up on this artform and artists like Slick Rick, Kool Moe Dee, LL Cool J, Run-DMC & Ice Cube, it made me fall in love with hip-hop because of their vivid storytelling and wordplay. So when I see that the art is completely changing and moving towards drug advocates, or only about how much money someone has and word play is now an antiquated way of expression; it drives me nuts. Common, had a song when I was younger called "I Use To Love Her." When I first heard it, I was blown away. With the recent passing of my friend XXXtentacion, I realize I have even more of a duty to show the youth a different and better way. Having concept songs and stories that are showcased in the mainstream is a step in the right direction."
With contributions from The Heatmakerz (Diplomats, Lil Wayne & Ghostface), 3D Natee and ANoyd, Page also made sure to keep things very Detroit centric, as Elzhi (along with Nick Grant) appear on "One In A Million" and rising talents Neisha Neshae ("I'ma Go Crazy") and Ashley Sorell (her angelic vocals also appeared on a few tracks from Royce's Book Of Ryan) also contribute. "I always look to rep my city in everything I do" Page proudly stated. "When I play characters in movies or on TV, if I can, I try and make sure they are from Detroit."
With a surefire Hollywood summer blockbuster movie and new album on the horizon, a lot has changed in a year, but it's still just the Same Page Different Story for Page Kennedy.
[jwplayer player="1″ mediaid="117559″]