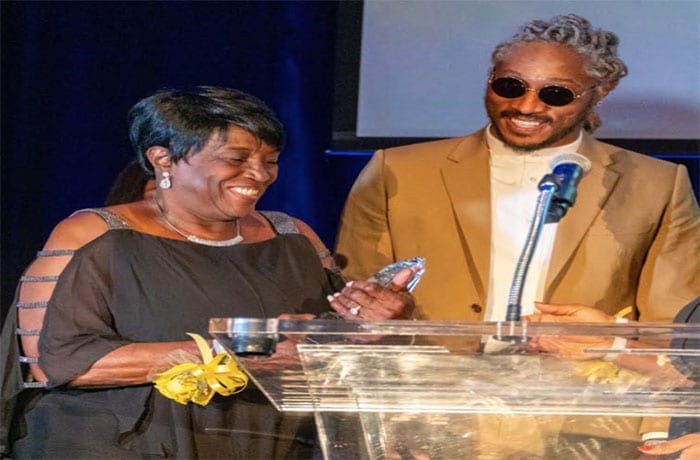 It was a magical evening at the Georgia Aquarium this weekend as Future and his FreeWishes Foundation hosted their 8th annual Golden Wishes Gala honoring Metro Atlanta Seniors. More than 750 seniors dressed in their finest attire attended the annual Gala.
Seniors danced the night away to live jazz music provided by the Douglas Whatley Jr. Band and hits spun by DJ Bluue. The seniors enjoyed a luscious Thanksgiving styled dinner in the spectacular setting of the Ocean's Ballroom. Seniors learned about Future's FreeWishes foundation, their ongoing community events, and ways to be involved.
Guest speaker, Fulton County Commissioner Natalie Hall, spoke about the "future" she envisioned for Atlanta seniors. Future and his mother, FreeWishes Foundation co-founder, Stephanie Jester, presented a surprise community service award to Emma Jean Boyd, Future's grandmother. A final performance by the legendary Jazz and R&B vocalist, Jean Carne, wrapped up the warm and positive evening.
On behalf of Future's FreeWishes Foundation, we would like to express our sincere gratitude and appreciation to our sponsors, volunteers and community leaders for their continued support.
"Our 8th Annual Golden Wishes Gala sponsors included: Jet One Charter, Anthem Blue Cross Blue Shield, Aetna, Luxury Connections, Zaxby's, Chick-Fil-A, JenCare, Freebandz Touring, and InTouch Properties."