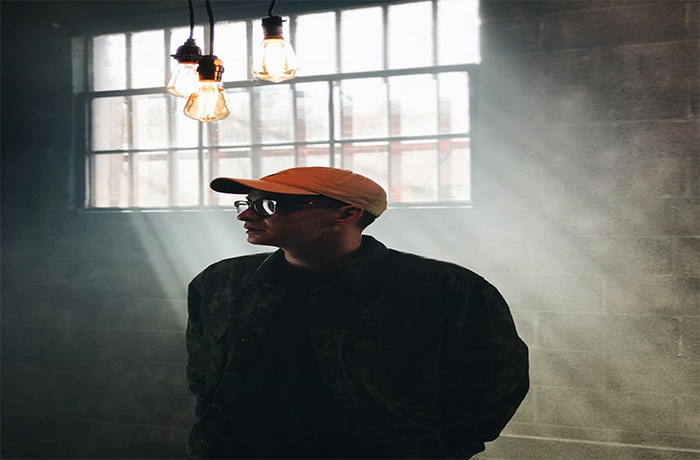 Bay Area, California emcee J.Lately presents the Adrian Per-directed music video for "Better One," the lead single from his new EP Tuesday. The track features a guest appearance from fellow Bay Area emcee Blimes and is produced by longtime collaborator Space Cadet, the beatsmith behind half of Lately's 2017 album Be F*cking Happy who produces the entirety of Tuesday, which also features appearances from The Grouch and Khyenci.
The "Better One" clip comes on the heels of the release of the music video for "Run" also included on Tuesday. "Better One" has already spawned a remix featuring Andre Nickatina and Zion I.
Last year J.Lately released the "Fun's Up" single, "Free" and "By My Lonely" featuring fellow Bay Area emcee Locksmith. Hailing from Sebastopol, and having split time between Oakland and Southern California, Lately has toured with Andre Nickatina, Zion I, Locksmith, and A-Plus of the Hieroglyphics, and his previous releases include "Save Yourself" featuring Blu and visuals for "I'll Be Living" featuring Demrickand "Papayas & Blunt Smoke." J says the new track is about "appreciating your own struggle and journey, and using it as a way to create confidence and happiness in yourself.
Blimes and I have crossed paths a lot in the local Bay Area scene, as well as moving around the country, and it was high time for us to connect on a joint together. We had hella fun running around LA shooting this video with the very talented Adrian Per. Also, my dude Space Cadet killed this beat."
You've been releasing relentlessly for the last couple of years, and you make it look easy. Is it? How do you keep it up?
To a certain extent, it is easy. The hard part isn't making the music for me, the hard part is all the other shit that comes with it. There's so much promotion and planning involved, and also financial investment in order to make the proper moves with your music and releases.
If it was as simple as making a song and uploading it, I feel like I could have released like 50 times what I have.
How has your outlook and expectations for your career evolved since you got on your serious music grind?
It's funny to me because I'm way further than I ever believed I would actually get, but I still have so far to go to get to where I actually want to be. But I would say one thing about where I'm at right now is I feel like I really love it.
Like I really feel like I'm perfectly happy where I'm at, the only thing I want to be different is the amount of money I make off it. It sounds kind of shallow, but I was thinking about it and realized that recently.
Like I don't need more fans, I have a bunch of cool ass fans already. I don't need anymore people at my shows, I have hella fun with the people at my shows already. I don't need more streams, at the end of the day that doesn't effect me at all.
I would honestly be perfectly happy if I just got to make music and share it with people everyday, as long as I was making way more money off it than I am right now.
[jwplayer player="1″ mediaid="127368″]
The Bay has always been known as a place where independent rappers can eat and survive off their art. Is that still holding true? Why or why not?
I personally think we're in a time where independent rappers from anywhere can eat and survive off their art, you just have to reach a level of success where they can monetize it.
I think because of the internet that your location doesn't matter nearly as much as it did before, which means that in the Bay some of the benefits of being such a self sustaining music community have sort of worn off.
It's almost like the rest of the country / world adopted the hustle of the Bay, where now it's less important to get the support of a label, but instead you just develop a fanbase and then go directly to them to get your money.
What's your favorite song you've ever recorded and why?
I know this is a kind of corny answer, but I don't think I really have a favorite song. In all honesty, I think my favorite song is probably one that I haven't even released yet. I just have a hard time listening to my music once it gets too old to me.
Like I have favorite songs to perform, but some of them I can't even actually sit and happily listen to the recording without hearing a bunch of shit I should have done differently.
When I really like a song the most is like the 2-3 months after I've written it, then I start moving on to the next.
What's something unexpected about J.Lately that we may not assume
One of my dreams is to one day have a house where I can plant a big garden in the backyard and grow vegetables that I can use to cook hella shit, and actually become a good cook instead of a fake good cook.