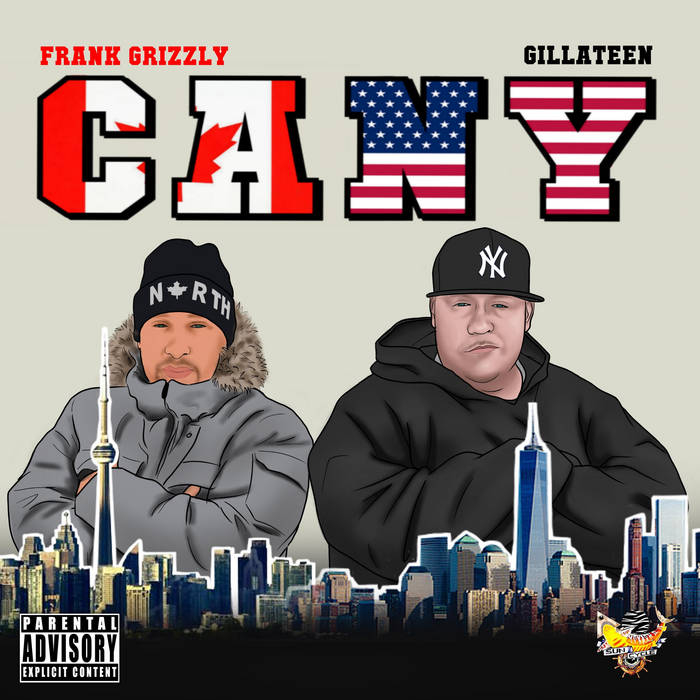 Gillateen and Frank Grizzly announce the release of 'CANY', a NY meets Toronto emcee/producer collaborative. The 12-track project is produced entirely by Grizzly with cuts and scratches by DJ TMB and DJ Goadman.
Gillateen shows off his mastered wordplay, storytelling, and quick-witted punchlines for what can be considered an epic piece of timeless Hip Hop. Intro, with striking drums and a melodic flow of instruments, sets a somewhat hypnotic tone for the album. Run serves as a high energy, hard track to lace up Nikes and run. Whether you have guns, are hopping fences, acting relentlessly in the trenches, or strolling curbside, no one is safe from police.  Last Breath is a more of a gritty track with vein piercing piano keys to magnify Gillateen's declaration to Hip Hop and his onward journey to the promised land.  
Red Curry ignites street heat with thumping bass and worldly soundscapes. Gillateen depicts the diverse badges of 'red curry', from doing time and losing your mind, and to a forced grind and flossed shine. No Forgiveness gives off a slightly eerie vibe accentuating on life stressors and the greazy streets. Gillateen just might be the last man standing to survive the jungle.
Louie, infused with smooth jazz, is Gillateen's ode to street survival knowledge, mafioso lifestyle, and the rulebook for money. Reality piggybacks off that theme and embodies the harsh truths of concrete slabs. What you think will get you out of the hood won't, you must walk a fine line minus the recklessness.  
Sickones defines Gillateen's style and flows with consistent, ingenious punchlines over classic cuts and scratches. He reassures the scene that his reign is incomparable. Life Scars strikes with chilling piano keys as Gillateen describes a tough come up with everlasting scars. If your body doesn't serve as a braille autobiography, you're clean and not real as you suffice.
Cany Do It is filled with gems to back Gillateen's stance in Hip Hop. His rhymes are sucker free, gimmick-free, not fabricated, and won't confuse. Because the game needs him, there's no room for losses. King Gully exudes that classic, boom bap vibe and is perfect for relaxing and kicking back. Just turn up the beat, head nod, and listen to the 'king' slay pretentious rappers.
Outro takes 'CANY' out with a kaleidoscope of instrumental cadences, thumping bass, and clapping drums sure to have Hip Hop enthusiasts ready to rewind and replay. The album is a no skip gem brimming with New York gritty tracks with top-notch production that heightens Gillateen's raw emotion and impeccable lyricism.
Stream 'CANY' and connect with Gillateen @gillateen101 on Instagram