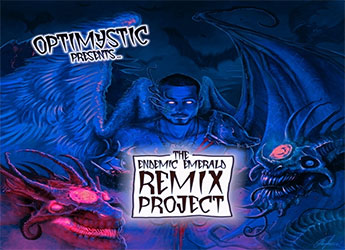 Optimytsic, Mr. Cheeks and Rockness connect for this Endemic Emerald Remix for 'Rock On All Levels'.
Australian emcee OptiMystic presents the Endemic Emerald remix project featuring 10 joints lifted from his 2016 double album: "Day of the Guiding Light/Followed by the shadow". The set showcases some incredible remixes from producer Endemic Emerald where he exhibits his signature new sound! The all star line up of features comes from strictly legendary cats; Sticky Fingaz, Fredro Starr, Afu Ra, Chip FU, Doitall, Mr Cheeks, Killah Priest, Das EFX, Rockness Monsta, Big Shug, Jeru the Damaja & more.
OptiMystic, hailing from Perth Australia, delivers topics of love, death, addictions & the great unknown. OptiMystic's love knows no boundaries! Check the first remix "Rock On All Levels" featuring Mr. Cheeks & Rockness Monstah where Emerald flips rare breaks and infectious bass riffs pieced together with class.