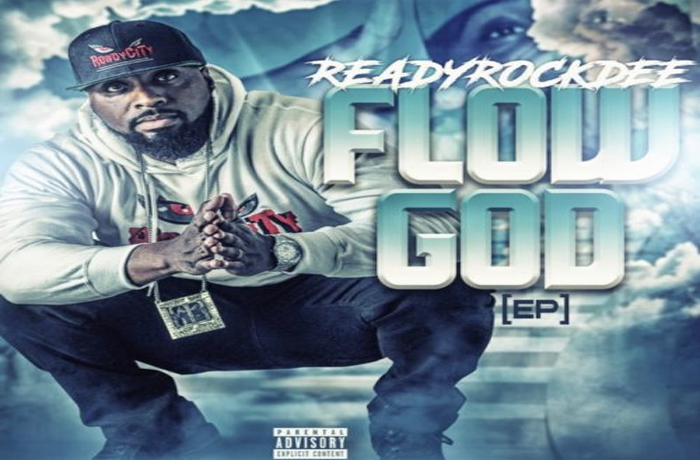 Recently ReadyRockDee released his new project "Flow God." The EP is a collection of tracks that piece together what is a solid project for rap fans. Adorning his Rowdy City gear on the album artwork ReadyRockDee delivers lyrics that harken back to the golden era of Hip-Hop where lyrics and bars were a premium and rappers didn't cut corners.
With Coronavirus, police brutality and more striking our communities, ReadyRockDee's project comes at the perfect time, saving the day with true lyricism and verbiage that will give you goosebumps. Combined with epic production this project delivers in ways that we may not have expected as this unsuspecting emcee has emerged from the darkness that is 2020.
As a founding member of the rap collective Rowdy City, ReadyRockDee is "good with the shot, Mamba clutch," just like he says on the intro that delivers bar after bar of pure lyrics showing his knowledge of the rap game.
/**/
The project starts off with "Still I Rise" a track that laments about his new friends and staying true to his day one's. Handing fans the baton to his music, this proejct shows his aggressive lyrical capabilities.
Transitioning to "Talk to the Streets" ReadyRockDee talks about his hustle with a raw delivery and an unwavering pressure that only bosses can deliver. This is a message to the streets and ReadyRockDee brings that feeling back just like the song declares. This is a throwback sound for sure that holds no bars just like the Big L flow. From his one-liners to his punchlines, this track is strong.
Continuing to talk his sh*t like ReadyRockDee does, this track continues to give fans shot after shot of deliverance. Although this effort has a similar sound throughout, the consistency begins to show through on this third track that hits you in your chest with bar after bar.
/**/
The title track brings another level to this project that somehow reminds me of the harmonizing that Dipset would do and you can really start to hear the influences of ReadyRockDee's music.
Paying homage to his group Rock City, ReadyRockDee knows how to stay loyal as you can hear with the track "Rowdy City State of Mind." Betting on himself and putting it all on the line you know that this song pays respect to not only Nas but the emcees that he started his grind with.
As the weather gets colder and colder as the Fall season approaches its clear that this project is needed as we throw on the beanie and hoodie and go about our day. With knowledge of those before him and where he stands in terms of the Hip-Hop landscape this project delivers punch after punch that Hip-Hop historians and die hard fans can appreciate.
Not only does ReadyRockDee prove that he is here to stay, but he also proves that he's been here making music that is timeless and needed in this era of wack rappers like Tekashi. This isn't a throwback to the "Golden Era" this is a throw forward to what Hip-Hop needs as we continue to push forward in this tumultuous era of life in 2020.
[jwplayer player="1″ mediaid="129031″]
/**/