We caught-up with Chox-Mak while he was in Austin for a performance during SXSW. At that point he completed a few dates where he had stops in Jackson, MS Dallas,TX, McAllen,TX and South Padre Island.
SFHH: With all of the dates in Texas…Is this something that was planned?
Chox-Mak:Â We planned it this way with SXW going on, I was supposed to have another date we planned the tour around Spring break and SXSW. We were out here last year and we had a blast and we wanted to come back and do it all again.
SFHH: Why is the name of the tour "90s Flow Lives?"
Chox-Mak: 90s Flow Lives was always a hashtag that I put out there to let people I am not going anywhere. Even if I stop doing things for a little while or I might fall back from music for a little bit, you might not see me dropping music like I was..just letting people know "90s Flow Lives." I had an idea to do a project with Prolfuent and he kept pushing me. He was like we gotta to a joint…I was like alright "90s Flow Lives" is the perfect name for it.
You make the boom bap type music and I am all about the old school Hip Hop flow and we came together to made some beautiful music.
SFHH:
 How do you select the producers you work with?
Chox-Mak: I call them my starting 5. I got Profluent, Bunty Beat, Dr. G, S. Tizzle and I got North Villa. Those are like my starting 5. They always come with that heat. It's always something I feel like it's easy for me to come up with a concept to, to make a dope record to. Besides S.Dot everybody is on that boom bap, old school Hip Hop, golden age type…that fits right in where I want to go. Bunty Beats.
SFHH: How do you and Bunty Beats always seem to be on the same page?
Chox-Mak: we got that chemistry. Since 2012 when we first started working together it's been some chemistry between us. It's crazy, he will send me a beat and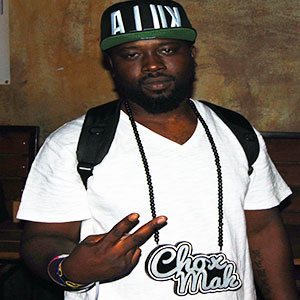 we make a banger every time. You can't buy that type of chemistry
SFHH:Â What is the next stop on the 90s Flow Lives tour?
Chox-Mak:Â I got one more stop in Houston and then head back to North Carolina.
SFHH:Â What next for you album, mixtape? What are you working on now?
Chox-Mak: I can't even say man, it's a surprise. I just want people to say oh, so that's how you going to do us. I got something… I been holding on to something for a minute..I had to wait for something to happen for me to drop a joint so I'm waiting for everything to be done with that and then I'm going to drop another joint.
It's crazy, I've already heard the final version but I ain't let no body hear yet..maybe two people have heard the record…so it is really exclusive when it comes SpitFireHipHop will get..I'm going to make sure you get.
SFHH:Â We first heard about you through DJ YRS Jerzy. Are you still rocking with him?
Chox-Mak: Because of business we have to be cordial. I don't speak to the man. I really don't want to get into the situation. For what it is worth he did what he had to do for me. We had a good run and you know we had to part ways. Sometime you out grow people.. that's just life. You can't always expect to be around the same people or do business with the some group of people because some people different agendas.
I had to go my way and he went his way. I don't have any bad blood with him. We got some big things setup for the year. We are trying to hit a few more festivals..do a couple dates and the video is coming. The documentary from the tour is coming and more music.
[jwplayer player="1″ mediaid="88491″]