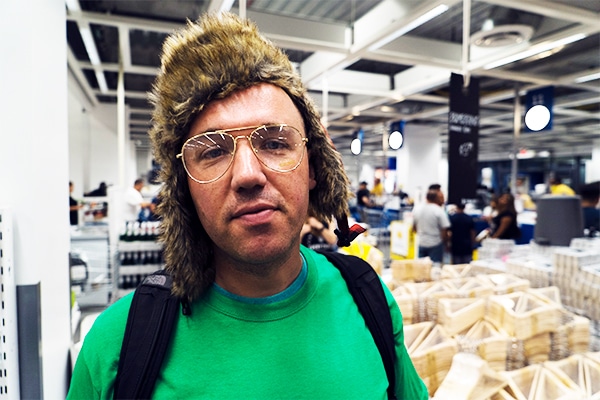 Skipp Whitman tells us how he filmed his latest video in IKEA.
Massachusetts-bred, LA-based emcee/producer Skipp Whitman presents the music video for 'Comfortable', shot entirely in an Ikea. Skipp has collaborated with Skyzoo and Grafh, and has opened for Kanye West, KRS-One, Talib Kweli, Kool G Rap, Nas and Guru. Skipp recently released visuals for 'Fireworks', a song from his Piece EP, composed, produced, written and recorded entirely by Skipp. Skipp's next project is called Unfinished Songs Vol. 1, a collection of original freestyles and unfinished or incomplete songs and/or ideas. it will feature all original production by myself, and multiple, cutting edge videos to be released between now and the project drop date. The "Comfortable" video was directed by AJ Lodge and conceptualized by Skipp's brother Jesse Feinberg. "We, like most, frequent our local Ikea," Skipp says. "And one day, while shopping, my brother Jesse mentioned 'these look like a bunch of film sets' – which they do. So he and I thought up this crazy idea where we use these film sets to shoot a video. The catch being, you hopefully don't realize it's an Ikea until the end."
What's something unexpected about Skipp Whitman that we may not assume?
I majored in accounting. I grew up in recording studios, and with multiple family members who taught at Berklee, so when I went to school I thought I would try something different. I went to Umass Amherst. The school was/is so massive that I knew I had to get into a smaller school within, and the School of Management there was legit, and pretty well known in New England also. Plus I was told it was almost impossible to get in. Once I got in, one of the first classes I took was financial accounting and I fell in love with the numbers. With the way that a balance sheet lined up, and by the end of that first semester I was tutoring kids in my own class.
What do you think are the big differences between the Boston and LA Hip Hop scenes?
It's hard for me to speak on the Boston music scene since I haven't been back in years. Like .. years. My first thought as a difference though, could be playing out. I don't remember playing out much around Boston except for some particular clubs. But again, that was a minute ago. Live music is a huge part of at least what I have experienced so far in LA. Lots of bands. Lots of DJs. A lot of jams. There are a few clubs down the street from me in North Hollywood where the individual tour musicians for major major acts will come and play. Lots of rehearsal spots. It's generally harder to get booked in LA since the clubs are bigger and more spread out, so the whole live aspect is a big deal.
What song do you feel describes you the best and why?
Mims, 'this is why I'm not.' just kidding. You mean of my songs? If so, man honestly 'Comfortable,' at this point. The first line I literally say 'I just wanna be comfortable baby.' Environment plays a huge role in my life and mindstate and really creativity and productiveness. I actually tweeted the other day 'you can call it splurging, but the money I send to get me in the right zone is the highest yielding investment i can possibly make.' And that's kind of like the point I'm at right now with things. Trying to create situations and environments and even experiences that spur creativity or just calm me down or whatever. I'm at a point right now where I'm creating a lot, and at least while that continues, I just want to be able to do what I can to facilitate it. If you meant not one of my songs, then I'd have to say 'Stayin Alive' by the Bee Gees.
How did you get away with shooting "Comfortable" in IKEA?
Maaaaan that was so fun. Well .. at first a little unnerving because we had me, the director AJ, my brother (who conceptualized it) and my homie J.W.J who sang at the end. And it was this big day we had planned for and we were already planning the release so we're there .. and I'm thinking man if they stop us we're screwed. Ok, the way we did it was .. the first day the director and I went and just scoped it out. Scouted, if you will. Picked the living room and bedroom sets that we'd want to shoot. Then on the first day of shoot we would approach one of the selected rooms and Jesse and J.W.J would jump in, tuck all of the tags quick, then I'd jump in and the director would shoot a couple of takes and then we'd keep it moving. But the more we did it, realizing that nobody gave a shit, we got a little more daring (like shoot J.W.J in the middle of the show room .. that was like 5 minutes before they closed on a Thursday I think).
What do you think the current rap scene is lacking?
That's a tough one. This may sound weird, but I don't consider myself as part of a 'scene' out here so I couldn't really say. My scene is a handful of directors and some musicians a couple of MCs and a few singers and producers. It's hard for me to relate to most new 'rap.' And I realize how that makes me sound but it is what it is. If I could make any comment I would say that it would be cool to have less 'pay to play' situations out here. Although I understand the purpose of them and respect that clubs have bottom lines, it has always salted most people I know on performing. There are some select spots out here that, as long as you could bring people, they don't do that, like this spot The Lost Knight in Echo Park. Also, would be great to see more consistent 'Hip Hop' related nights like Low End Theory (really dope night that's been going on forever in Highland Park).
[jwplayer player="1″ mediaid="111794″]