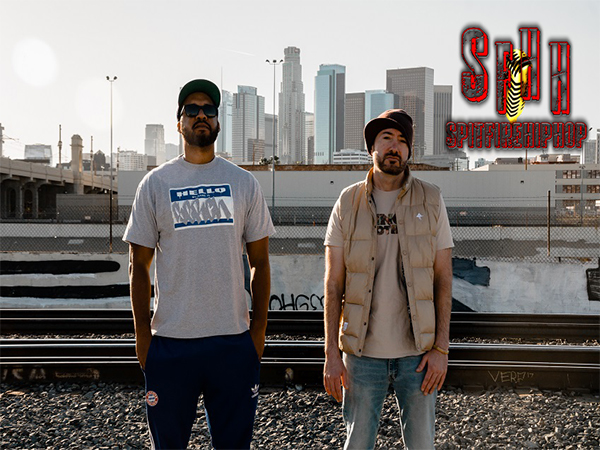 Eso Tre and Subz are L.A. duo Substance Abuse, presenting the RCKLSS ABNDN-directed music video for the Waes One and Philm One-produced single "Bridges", featuring Aceyalone of Freestyle Fellowship. Former URB Next 100 picks, their 2006 album Overproof (Bandcamp) featured MF DOOM, Saafir, P.E.A.C.E., Kool Keith, Motion Man, Kutmasta Kurt and Rasco, while 2012's Background Music (Spotify) featured Myka Nyne, Tash of Tha Alkaholiks, KRS-One, MC Eiht and Percee P. Aceyalone is a founding member of Freestyle Fellowship, a collective that brought an improvisational focus to the Los Angeles underground hip-hop scene in the 1990s.
"Subz came up with the idea for 'Bridges' because he felt we needed to do a song about unity in these increasingly divisive times we're in," Eso says. "We couldn't think of a better emcee than Aceyalone to bring on board, as he has a special talent for creating dope songs built off of a single metaphor.
Our goal was to create something in the tradition of our heroes The Native Tongues, a track that was jazzy, positive, and upbeat but with a message that the modern audiences could relate to."
What have you guys been up to since the last time we heard from Substance Abuse?
ESO: It's been a minute right? We dropped our "sequel" EP "Background Music: The Redux" in 2016, which was a follow up to our classic "Background Music." We have been working on a third album and thought it was high time to drop a new single, as we didn't want people to think we were off the map. "Bridges" was a concept Subz had put forth as a response to the times we're in, and I thought it was a great concept. We have other creative pursuits we're engaged in, but until I win my Emmy Award I prefer to be reticent about it.
SUBZ: Working, traveling, being a parent, trying to make my first mil without rap money because I'm realistic. We don't drink Lean and have lil' in front of our names so we're flying under the pop radar.
How do you feel age is affecting your music? How do you think it changes your musical approach, and the music result?
ESO: Age doesn't mean what it used to in hip hop, and society in general. In hip hop it really only matters if you're catering to a certain constituency, but people that appreciate real beats and lyrics don't really place much of a premium on age, as long as you can rip it. I feel strongly that Subz and I have gotten better with time, and we will continue to progress. There was a King Tee article back in the day about how he didn't want to be a rapper that was over thirty years old. I went to a show in L.A. a couple years back and Tee absolutely killed it. People are starting to realize now more than ever that longevity in this game is what counts. You don't stay in it unless you have skills.
SUBZ: I don't think age has affected our music. We're getting face tats and Eso is going to dye his goatee green so the kids can relate to us. Joking. We're more mature and not making young boy mistakes anymore, plus I'm not good at being emo. We prefer to cover universal subjects anyone can relate to, strictly jewel dropping.
[jwplayer player="1″ mediaid="117198″]
Who do you think is the most underrated West Coast act apart from yourselves and why?
ESO: I always thought Homeliss Derelix was the most underrated West Coast hip hop group, and maybe the most underrated hip hop group period. 50 Grand and Architect had such a rich sound when they first came out. When you're growing up in L.A. you hear a lot about dope emcees from Oakland like Saafir and Hieroglyphics, but not so much San Jose. Yet Homeliss Derelix and Encore were some of the sickest West Coast emcees and I never thought they got the props they deserved. There was a deep east coast influence to their sound, but you could still tell they were proud of where they were from. I always hope to hear more material from those dudes.
SUBZ: There are no other most underrated West Coast hip hop group than us. We have been made pariahs by the hip hop illuminati so we gotta be whistleblowers. Pause.
Do you guys freestyle? How important do you feel freestyling is these days?
ESO: We definitely freestyle, as it was our entree into the rap game. Before most emcees decide to make songs, they cultivate their talents by freestyling. We were never battle rappers, but we always enjoyed getting into ciphers with our homeboys (usually like four or five deep) and playing off of what the last person to rap was saying. I can't say it's as important to us as it used to be, because the priority for us in making songs. But I'm sure in the right situation we would still be inclined to do it. Sometimes if I hear someone around me rapping off the top it inspires me to join in, and I remember how fun that was back in the day.
SUBZ: Yeah we freestyle, but culturally it's not as important as it used to be. They aren't spontaneous anymore, they're writtens which would've been frowned upon when we came up. But I don't mind if they're good, because let's be honest: good music isn't getting the shine it should.
If you could bring one dead emcee back, who would it be and why?
ESO: The obvious choice for me would be Guru. Gangstarr had such a profound impact on us back in the day, and hearing about him pass was obviously a blow to everyone who loved hip hop. There's a reason he's one of the most sampled rappers in hip hop. He really said things that stuck in your head. And his presence was nonpareil. I remember being addicted to the "Take It Personal" video as a youngster. There was something about his laid back persona that drew you in, and it showed that you could be forceful as an emcee without being overly emotive or theatrical. "Step in the Arena" and "Daily Operation" will always remain two of my favorite albums of all time.
SUBZ: J DIlla. His production is of the all time greats. Maybe not the most lyrical but his presence was so live. Heavy vibes.